There are no shortage of green topics these days.
Whether it is marijuana legalization or the explosive growth of medical marijuana dispensaries in Ontario over the last year, we see lots of news stories about marijuana and the money in play.
I recently rented out a commercial space to a medical marijuana dispensary and since then, I've had calls from no less than 5 other medical marijuana dispensaries asking about the location and whether I have other places that might be suitable.  There is clearly money in the retail sale of marijuana!
Given today is Earth Day, I thought I'd talk about the financial benefits of a different sort of green – properties that are environmentally responsible.
I know that it is a beautiful Friday afternoon, so rest easy – I won't be doing much in the way of number crunching this time around.  This is more about a general trend than specifics on return on investment when it comes to environmentalism.
While most of us have come around to the idea that taking care of the place we live might not be the worst idea, I was curious to see if environmental responsibility had made its way into the marketing and promotion of properties in the GTA real estate market.
Real estate agents and sellers are nothing if not practical when it comes to effective sales tactics.  When one property sells quicker or for more money as a result of a marketing approach, you can bet that others will soon follow.
In honour of Earth Day, I decided to see if there is good news on the marketing side that shows that environmentally responsible properties are getting more attention from sellers.  My logic is pretty simple – if sellers are using it in their marketing, it is because buyers are responding to it.  Ask anyone who has seen a listing for the Upper Beach that is just south of the 401 if listing agents use what they think people want to hear.
After racking my brain for a bit, I researched the use of particular words in the Remarks for Clients section of MLS listings.  This is that first part of an MLS listing where they typically say things like "Welcome to your new home!  This open-concept, updated, etc…"
There was no clear indicator on the freehold home side, but in the condominium side, I decided to look for the use of the word LEED.
Leadership in Energy and Environmental Design (LEED) is basically a third-party certification program. It is a nationally accepted organization for design, operation and construction of high performance green buildings.  It has been in existence in Canada since 2003, when the Green Building Certification Institute was granted the ability to certify buildings.  The level of LEED certification varies and considers the following categories:
Sustainable Sites (SS)
Water Efficiency (WE)
Energy and Atmosphere (EA)
Materials & Resources (MR)
Indoor Environmental Quality (EQ)
Innovation in Design (ID)
Regional Priorities (RP)
There are a number of LEED certified buildings in Canada and more and more new condo buildings are designed to achieve some level of LEED certification.
While LEED building certifications have been around for a while, buyers weren't really interested in it until quite recently.
When I reviewed sales going back to 2003, the first use of the word LEED in a sold condo listing took place just under two years ago.  In April, 2014, a one bedroom condo in Markham was listed and used "LEED certified building" in their marketing on the MLS listing.
Within the year, that solitary sale using LEED in their marketing had been joined by 117 other sold properties that marketed themselves with the LEED certification for various buildings.  Another 110 listings sold in the last year with LEED in the MLS listing.  Here's a summary by quarter since then: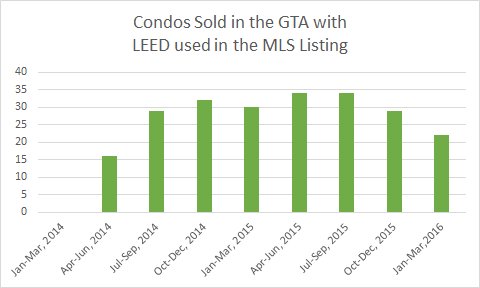 As of today, Earth Day 2016, there are 43 condominiums currently for sale that are using LEED in their marketing efforts in MLS listings.  Good news as it shows that environmentally responsible buildings are becoming important considerations for buyers.  This translates to higher sale prices and quicker sales for units in such buildings, both on the new and resale sides.  Add in lower utility costs due to the energy efficient nature of the building and green really is green.
If you or someone you like want to buy or sell a home with an agent who is down with the green (environmental considerations and their financial benefits, not marijuana!), then please get in touch.  I'd love to be responsible for what comes next.
Regards,
Jeff

THE FIRE
There is no substitute for fire.
With very few exceptions, I've never had a buyer who made a fireplace one of their must-haves in their hunt for a new home.  That being said, I've never had a buyer who didn't react positively to a fireplace in a home that we viewed.
While fireplaces may not be something that buyers think of when they consider their next home, rest assured that homes with fireplaces are immediately more memorable and appealing.  The focal point of a fire seems to give most of us an easy way of deciding on furniture layout and buyers envision relaxing times on a cold Canadian winter night with friends and family.
The majority of higher end renovated or new build homes include fireplaces for just this reason.  If you are renovating your home, consider spending some money on sprucing up or installing a fireplace.