Today is the start of Fall and that means that pumpkin spice everything will start appearing.  Lattes may be first but soon they'll be muffins and waffles and perfume and tacos and oil changes and so much more.
We thought it was high time that Realtors jump on the pumpkin spice bandwagon, so we're urging all our colleagues to start marketing their listings with it for the next couple of months.  A quick search of the 13,251 properties currently for sale in the Greater Toronto Area showed that not a single one is capitalizing on the pumpkin spice craze as of yet!  Oddly enough, four listings did choose to highlight the fact that the home being sold had a spice drawer.
While we wait for pumpkin spice real estate to become a thing, let's talk about the three things that Fall means to the real estate market.
Time is ticking.
When Fall starts, sellers who have been considering selling their homes or who are on the market now suddenly realize that winter is coming.  There are 84 days until December 15th.  What happens on December 15th you ask?
The middle of December is when buyers and most Realtors pack it in for the year.  The holidays are fast approaching, work parties are in full swing, year end requirements are piling up and lots of people no longer have the time to search for a place to buy.
If a home hasn't sold by December 15th, the likelihood of it selling in the next month is quite slim.  This is typically the quietest time of year for real estate sales.  January of 2017 was unusually busy but it was still nothing compared to the next few months.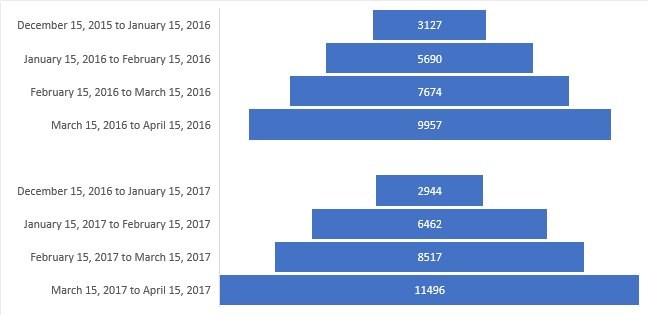 Take a look at the number of house sales (freehold houses in the GTA) in those winter months this year and last year.  There are always some homes that sell around the holidays but compared to the following months the market is much slower.
Love those fall colours!  Oops, missed it.
Different homes show better in different seasons.
Almost no house looks it best in the end of winter as Spring approaches.  Melted snow revealing all the detritus of a long winter and brown, dirty grass and ground surfaces.  Even if a seller cleans up their home, the neighbours and the street is not likely at it's best.
We are blessed in Southern Ontario to have foliage that explodes into gorgeous colour in the Fall.  Some condos are sold because of the amazing view of the tree canopy and some private backyards become a lot less private once the leaves drop.
Mature trees are a valuable attribute in selling a property but they are one of the only attributes that fluctuates in value throughout the year.  From the budding period in the Spring to the height of the Fall foliage, buyers love mature trees.  When grass is covered in a carpet of fallen leaves and a bare tree sits exposed, the exact same attribute is no longer pushing those emotional buttons.
Another attribute that shows great in Fall and into winter is the presence of fireplaces in a home.  While they may be noticed in the spring or summer, when a buyer walks into a home on a cool day to find a cozy living room with a roaring fire they really see the appeal.
Wish I could see that house.  Well, see it in daylight.
As we head into Fall the days start to get shorter.  While we may see more and more self-employed individuals in our economy, business hours of 9 to 5 are still pretty standard.  For those that have a boss to report to, leaving before the end of the work day is difficult.
As it gets dark earlier, Realtors show more and more houses in waning light or darkness.  Homes that have features that are best seen in the light of day are essentially being sold on only part of their value.
Whether it is beautiful gardens, a lovely view out the back yard, great landscaping or any other number of exterior features, the Fall season means such attributes aren't as visible.
It is strongly recommended that sellers who are going on the market in the Fall or Winter make sure they have adequate lighting to highlight such exterior features.
In general, lighting is very important for making a home feel welcoming and that is particularly important as we head into Fall.   There is a saying at Keller Williams that "Logic makes you think, emotion makes you act."
When a prospective buyer arrives to find all the lights out, making them fumble in the cool evening darkness to find the lockbox, put in the code and open the front door, it doesn't trigger great feelings.  In fact, it feels more like breaking into a house than showing it and regardless of how great a house looks on paper, that feeling translates into fewer interested buyers.