Once a year, Keller Williams celebrates what we call RED Day.
RED Day (Renew, Energize and Donate) is an initiative dedicated to celebrating Keller Williams Realty's year-round commitment to improving our local communities.  Each year, on the second Thursday in May, tens of thousands of associates from across the United States and Canada and beyond participate in a wide range of projects, devoting their time to renewing and energizing aspects of the neighborhoods in which they serve. 
RED Day initiatives run the gamut: From rebuilding homes, refurbishing local parks, giving to local food shelters, hosting blood drives, beautifying beaches and so much more. Projects are chosen by each individual market center based on a need they see within its community.
This event is an entrenched part of Keller Williams Realty's culture and displays the extraordinary effect a company can have when individuals come together to work as a team for the greater good of everyone.
"RED Day isn't about cleaning up a park. It is a one-day expression of what happens 24/7 in the Keller Williams culture. It is seeing a need, discovering who can meet that need and then getting it done."
Yesterday was RED Day 2017 and my brokerage focused our efforts on Eastview Neighbourhood Community Centre in Toronto.
Over 60 Realtors from my brokerage met first thing in the morning for coffee, breakfast and instructions, then headed over to Eastview.

Rise and shine KWers!

The group, ready to give back!
At Eastview, the Executive Director and Volunteer Co-ordinator greeted us and we learned about all the amazing (and varied) initiatives done by Eastview.

Making our presence known!
We then broke up into teams to help with:
Organizing, cleaning, emptying, repairing and refreshing the massive multi purpose room in the centre (my focus for the day!)
Helping seniors at a nearby location with gardening
Face painting and a fun fair (complete with bouncy castle) for neighbourhood kids
BBQ for neighbourhood residents
Sanding and painting of chairs and other furniture
Here's some more pictures of the day.

Deb, Ruth and Barb gardening their socks off!

These chairs turned out pretty damn sharp!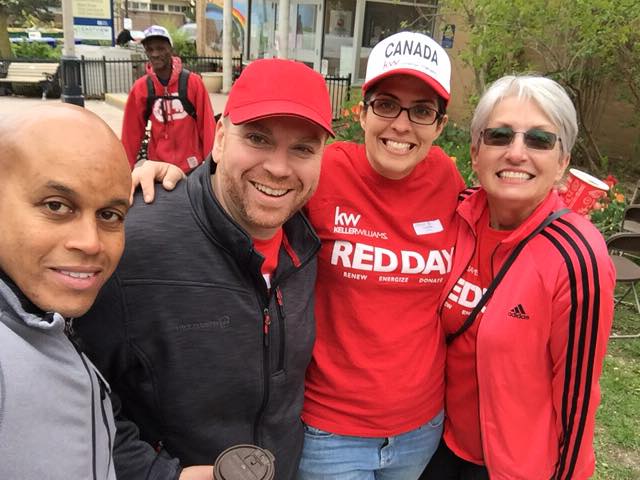 Greg, me and the ladies Rohloff!
It was a rewarding (and tiring!) day that always makes me proud to be part of the Keller Williams family.  The slogan for RED Day is "Give where you live" and it really strikes a chord with me.
In honour of RED Day, I'll end this by asking, do you know a Realtor who you think would fit in with the Keller Williams approach to real estate, business and life?  It's someone who is focused on doing things right and who is looking for a win-win result in their dealings.
They need to value learning and growing, as KW is the #1 training organization in the world.  That means they'll get lots of opportunities to take courses and improve their skills and themselves.
If you do know someone who is in real estate that wants to move their business forward, please put them in touch with me.  I'd love to be responsible for what comes next.
Regards,
Jeff

PATHS AND GOALS
The layout of paths and will seem right and comfortable only when it is compatible with the process of walking. And the process of walking is far more subtle than one might imagine.
If you have ever been in a poorly designed home with a counter-intuitive layout, you know how frustrating it can be to experience a space that is ignoring the way we want to move.  We have all been in rooms where it seems like every time we try to do something or get somewhere, something is in the way.
Whether it is a furniture layout that forces you to go around when you need to go straight, or a wall setup that means you can't efficiently complete a task, it is crucial that we consider the paths we will follow as we move around a home.