On this Friday before a long weekend, I thought I would take a moment to talk about some things that take a long time.
I promise to refrain from talking about upcoming federal elections, travelling anywhere in Toronto during the Pan Am games, or why it took me a decade to propose to Diane.  Not gonna mention those things at all.  No siree.
Instead, I'm going to talk about a property that has been on the market for a long time.  Like, a really long time.  It probably isn't news to you that properties don't stay for sale for long in most markets these days.  There are some, however, that stick around for a bit longer.   How much longer?
773 days.
That's right, when I looked up properties that had been on the market the longest, one of the top 5 longest listed properties in all of the GTA is a townhouse on Dundas Street East in Toronto.  It is for sale for 773 days as of today.  This property has been on the market for over 2 years.  Two years!
The other properties in the top 5 are farms, or vacant land or rural properties and they can absolutely take a while.  Now, this property I'm discussing is a licensed rooming house but it could be converted back to a single family home if the 5% cap rate doesn't appeal to a buyer.
In an incredibly hot seller's market, how does a townhouse close to downtown Toronto stay on the market for over two years?  TWO years!
Here's the short answer.
You chose to hire a "listing only" brokerage where for a flat fee your property goes up on MLS but you get no advice, assistance or help from professional Realtors who do this for a living.
You offer a low (and I mean REALLY low) commission.
You ping pong your listing price up and down before sky rocketing it into the stratosphere.
Here's the long (but not really, really long) answer.
Hiring a Listing Only Brokerage
For a few years now, sellers have had the option of paying a flat fee to a listing only brokerage to publish what is called a "mere listing" on MLS.  For a low fee, the seller has their listing put onto the MLS system with notes that say for any questions, contact the seller directly.  The listing brokerage isn't offering the same suite of services to the seller that is typical of a "normal" MLS listing and they don't advise on the price, commission, marketing or anything to do with the listing.  They put it up and that's it.
The seller for this townhouse chose to hire a listing only brokerage and the brokerage did exactly what it promised.  It put up that listing.  I say that to make it clear that I'm not criticizing the listing brokerage for the length of time this property has been on the market.  When you hire a listing only brokerage, their job is not to get the property sold, it's to put up the listing using the information the seller provided.
It's a good thing brokerages aren't charged by the day for listings as this one could have gotten expensive.
Offering a Low Commission
With the seller basically operating on their own, there are two key decisions they needed to make.  The first I'll discuss is what sort of commission to offer to agents who bring a buyer.
In this case, the seller decided to offer a $2 commission to agents who bring a buyer.  That's right, two whole dollars.
Now to be fair, whenever a listing shows a commission like that, it means that the listing brokerage hasn't been authorized to offer a typical commission (commonly 2.5%) to the purchaser's agent.  It doesn't mean that the seller won't offer a commission greater than the amount listed, which in this case is that $2 amount.  Agents will need to call and have that discussion with the seller.  I've done it before and sometimes sellers offer a flat amount, sometimes they offer a pretty standard commission and sometimes they don't want to pay a commission at all.
As I have said in previous articles offering less than the common amount in your market (2.5% in most of Ontario) is likely going to result in your home sitting on the market for longer than you want.  Say, 773 days.  In case you were curious, that is a whopping 760 days longer than the average length of time it takes to sell a townhouse in that part of Toronto, which is 13 days.
My favourite part of the whole listing is in the offered commission section where it says $2, followed by "Unless Rejected & Arranged W/Seller".  I laughed out loud when I saw that, because it makes it seem possible that there is a real estate agent somewhere who might be just fine with a $2 commission.  Now, that $2 commission is double the $1 that many "mere listings" on MLS offer, but it is still pretty low pay.  When I consider that I have to give my listing brokerage a percentage of my commission, I would clear about a buck fifty.  Mind you, that is before income tax.
I think it is clear that the commission offered has definitely played a part in this property staying on the market for over two years.  TWO YEARS!  (I will stop saying that soon, I promise.)
Pricing it high (or low, or high, then low, then lower, then higher, then really high)
The other aspect that definitely affects how long a property stays on the market is the listing price.  A property that is listed above market value will sit on the market longer as it will have fewer showings.  Keller Williams did research into this and found that you have up to 80% fewer potential buyers look at your property if you price the property more than 15% above market value.
So did the sellers of this townhouse price it above market value initially?  I would say they did, based on the pricing changes over the time it has been listed.  In the case of this townhouse, the sellers have made 6 price changes over the time it has been listed.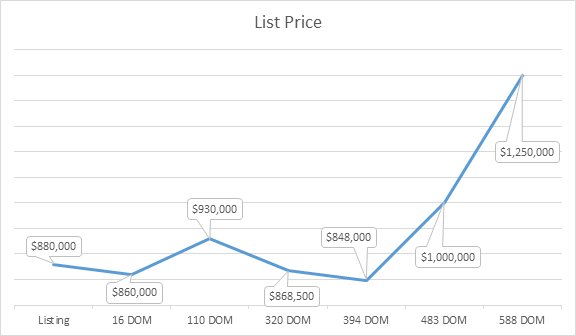 You can see that they are all over the map here.  After an initial listing price of $880K, they decided that was too high and dropped it down by $20K.  When that didn't work, they decided to raise the price up to $930K.  When that didn't work, they dropped the price back down to $868,500.  With no action at that price, they lowered the listing price to $848,000, the lowest it has been listed at since it went on the market.  About three months after that price, they upped the listing to an even $1 million.  In January, 2015, they changed the price again, this time up to $1.25 million, where it has stayed.
As they have continued to describe this property as an investment property, each time they adjusted the price, they have had to adjust the cap rate, which is a basic method of looking at the return on investment.  Each time the price went down, the cap rate went up, as it was a better investment.  Of course, when they raised the price, the cap rate went down, as the higher cost meant it wasn't as high a return on investment.
The simple rule I tell my clients is that we have one opportunity to make a first impression on the market.  Whenever a new listing goes up, there are a glut of potential buyers, just waiting for new properties.  If we price too high, the market largely ignores the property and in most cases, the property sits without offers.  When a property is priced too high for the market, you can't do a minor price drop and expect the market to react.  You need to grab their attention by doing a sizeable price drop or it will be ignored.
In this case, the sellers did a minor (less than 3%) price drop after a couple of weeks on the market.  They then bounced all over the place with no resulting sale.  After more than a year on the market, they dropped to their lowest list price but the market at this point was ignoring the property.  The two most recent price increases have not resulted in a sale either, so the pricing strategy to date has clearly not been successful.
Without the advice and guidance of a brokerage whose job is to get the property sold, a listed commission rate that won't  attract many buyer's agents and a price history that is all over the map, it is no surprise to me that this property has been sitting on the market for so long.
I hope you enjoyed hearing about this listing and why I think it has been on the market for so long. The longer I am in real estate, the more I realize that the right advice, experience and guidance can make a huge difference in how quickly, profitably and easily a property sells.
If you want to start your long weekend right about now, close this site, turn off your computer, grab your favourite drink and have a Happy Simcoe Day long weekend!
Oh, if you want to impress (or annoy depending on your viewpoint) your friends and family this weekend, you can tell them it's called Regatta Day in Newfoundland, Saskatchewan Day in SK, British Columbia Day in BC, Natal Day in Nova Scotia and PEI, Simcoe Day in Toronto, New Brunswick Day in New Brunswick, Colonel By Day in Ottawa, Heritage Day in Alberta and Joseph Brant Day in Burlington, Ontario. It is also called Benjamin Vaughan day in the City of Vaughan, Ontario.  Now you know.