I often get asked by my clients for advice on what to fix in a home before we put it on the market.
It's a great question and one that I'm well positioned to answer as every day I see homes for sale.
Over the years I've developed a very good sense of what features enable homes to sell and what deficiencies cause homes to not sell.
At it's most fundamental level, I tell my clients that the work they do needs to be appropriate to the home.  By appropriate, I mean that it is in keeping with the rest of the home, with the neighbourhood (or building in the case of a condo) and with the overall price point for their home.
How do you know what's appropriate for the home?   There are three fundamental rules.
The price point of the home dictates the quality of the finishes in the home.
This rule holds true for both lower priced homes that are upgraded to a higher standard than comparable properties as well as higher priced homes that don't have the expect level of finishes.
In the first case, the above average finishes in the home will absolutely help the property sell quickly. Unfortunately, the sale price is often not enough to recover the expense spent on these finishes.  If there is a disconnect between the neighbourhood (including the building finishes in a condo) and the property itself, a lovely upgraded unit doesn't convince someone who doesn't like the area to purchase the property.  In fact, they may not even see it.
In the second case, lower quality finishes in a home at a higher price point can in fact prevent a home from selling.  I have been in a number of million-dollar plus homes where the appliances are the same $1800 package available from the Brick I've seen in homes listed at $400K.  A home that is listed at twice the price of another doesn't need to have twice as expensive finishes, but it does need to have a higher quality that is in keeping with other comparable properties in that price point.
I met with a client this week where this rule came into play.  It's a two bedroom condo with amazing city views and great floors installed a couple of years ago.  The price point is lower (in the mid to high $300s) and as such we need to be careful to not spend money we won't get back on expensive upgrades.  In this particular case, the kitchen is original and a bit dated.  In a higher priced condo, you might consider replacing the cabinetry and countertops.  In this unit, you aren't likely to get that investment back in the sale price.  The focus then becomes relatively inexpensive ways we can tighten up the appearance of the kitchen without spending lots of money.  A tile and stone backsplash, some new paint and gleaming appliances will go a long way to improving the look and feel of the kitchen, at very little cost.
If its commonly there but your home doesn't have it, fix it if you can.
The second rule for knowing if something is appropriate concerns missing attributes or features.
Whenever a home varies from the norm for that style of property in terms of attributes or features, it can be quite jarring for a potential purchaser.
For example, a 2nd bedroom converted into a walk in closet may have made sense for a homeowner who lived there on their own, but the value of the 2nd bedroom far exceeds the closet space when you look at potential purchasers.
Whenever there is something missing from a home that is typically present, it stops buyers in their tracks. Even when the issue could be remedied with a bit of time and money, buyers often focus on that missing element and use it to decide to move on.
In some cases, the missing attribute can't be easily remedied.  There is no question that a condo without a parking space is a harder sale than one with a parking space.  If spaces aren't available to purchase or the cost is beyond the home owner's ability, then we focus on other positive attributes of the home.  We know that we miss out on a sizeable portion of the buying public who won't consider a home without parking.
I have a listing coming out shortly where this rule was in force.  It is a bungalow located on a ravine lot that has had gorgeous exterior updates done.  When you walk in the front door, there is an entrance area, then some steps up to a living room area.  The previous home owners had converted the hall closet at the entrance way into a TV cabinet for an older style TV that was facing the living room. My clients didn't use the area for watching TV and as such, we decided to convert the hall closet back into its intended purpose.  While a hall closet isn't likely to be something a buyer describes as the key reason they bought a home, the lack of a hall closet can make a buyer decide this home just doesn't work for them.
If you can fix dark, crowded or dirty, do it.
The final rule focuses on those renovations or adjustments that make a home brighter, more open and clean and fresh.
I always tell my seller clients that they can expect to have slightly higher utility bills when they sell their home.  The window blinds need to be open, all the lights need to be on and if we can make any part of the home brighter, we should do it.  This included painting darker coloured rooms in a light colour to brighten up the space.   For lighting, while natural light is best, any increase in lighting invariably results in more positive feedback from potential buyers.  If you don't have a tree you can trim back to allow more light in, at least invest in brighter lightbulbs and more lighting inside.
Another crucial aspect is whether a home feels crowded or open.  We often end up with furniture that fulfills a specific need but might be a holdover from other homes in terms of size and design.  The extra, mismatched pantry cabinet shoehorned into the kitchen, the heavy wood bookcase for a flat screen TV or the row of extra chairs against a wall for the rare dinner party – all need to go.  Purchasers don't want to feel they can't move in a space and the more furniture crammed into a space, the smaller it feels.
Finally, whenever you can freshen up a room or space, do so.  This may mean a fresh coat of paint on an older part of a basement, power washing and deweeding of a crumbling patio area or countless other quick and easy ways to make the home feel clean.  Sellers often underestimate how a clean and fresh version of something the buyer will likely repair or replace is still a vast improvement over the dirty version.
Last week, I met with clients to talk about selling their home.  It is a 1910 built, semi-detached with tons of character and a lovely back deck.  They have done some wonderful upgrades in the home and I only made a few suggestions for things to be done that could add value.  One of those suggestions was in the dining room area.  The light fixtures in that area were both older and lacking.  As a result, the space felt dark.  I've recommended upgrading some of the older pot lights to brighter versions, replacing the dining room chandelier and even adding in more lighting in the space.  By doing so, they make sure that potential buyers focus on the ornate plaster work on the ceiling and the custom bookshelves rather than the darkness of the space.
If you found these rules helpful and you or someone you like are considering selling your home, get in touch to arrange a time for me to visit.  It's important you choose a Realtor who views your home with the eyes of a buyer so that you can get the highest sale price in the least amount of time.  If you're looking to sell, I'd love to be responsible for what comes next.
Regards,
Jeff
PS – In case you were curious about the banner image, it's Joe Biden doing some inappropriate touching of a big fella beside him.  I love the expression on everyone else's faces.  Bad Joe, bad.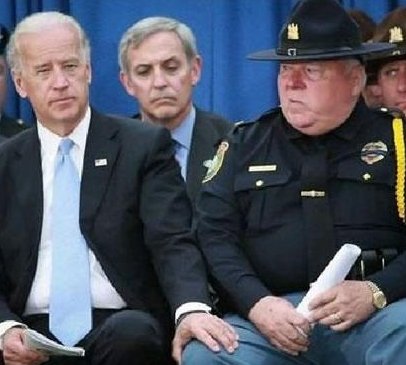 SHIELDED PARKING
Large parking structures full of cars are inhuman and dead buildings – no one wants to see them or walk by them.  At the same time, if you are driving, the entrance to a parking structure is essentially the main entrance to the building and it needs to be visible.
This lesson recommends that when we have parking structures we need to have them behind some kind of natural wall, so that the cars and parking structures cannot be seen from outside.
For individual homes, I see this applying to homes where the garage becomes the focal point of the home.  While parking is necessary, homes that places this functional aspect above the form of a lovely home suffer in terms of price appreciation.