I was having a conversation the other day with Drake, and he was quite surprised when I told him that forget about the six, the five is where it really is these days.
Full disclosure, Drake is the nickname I have given one of Diane's fish in her aquarium.  Fuller disclosure, when I say he was quite surprised, I don't know if he was surprised by what I said or another fish going by.
The point I was trying to make to my fishy friend was that the latest statistics for mid-month (May, 2016) show that homes outside of Toronto (the 905 area codes covers suburban greater Toronto area) are actually increasing in price faster than Toronto real estate.
I know that may be surprising given all the media attention on Toronto and Vancouver as the places where the real estate markets are just crazy, but here's the break down.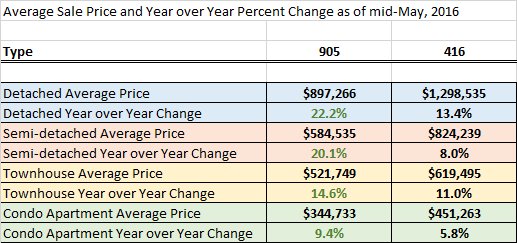 The biggest percentage change across the four major housing types was detached homes in the 905 area, going up on average by 22.2% since this time last year, ending up at just below $900K for the average sale price.
It is still true that homes in Toronto are more expensive on average than homes in the greater Toronto area, but we are seeing house prices in the surrounding areas jump by leaps and bounds.
This latest data shows that homes in Toronto are charging a 25 to 30% premium over similar types of homes outside of Toronto, with the exception of townhomes.  The average price for a townhouse in Toronto is just over 15% more than the average outside of Toronto.  This makes sense given we've seen the rise of luxury townhome developments in a number of municipalities surrounding Toronto.
I regularly work with clients in both Toronto as well as the greater Toronto area and would love to help you or someone you care about get the most from the sale of their property.  If you want to chat further, please don't hesitate to get in touch.  I'd love to be responsible for what comes next.
Regards,
Jeff
PS – Happy Victoria Day long weekend!

BEER HALL
Somewhere in the community at least one big place where a few hundred people can gather, with beer and wine, music, and perhaps a half-dozen activities, so that people are continuously criss-crossing from one to another.
In honour of our May 24 long weekend and some gorgeous weather, I chose this focus for today.  When I think of great evenings out at events, the physical space did tend to follow this pattern.  Find your own great space and enjoy the weekend!