I have a number of clients closing on home purchases over the next few weeks and I've been having lots of conversations about closing day.
Closing day is that wonderful day where all of the hard work in finding your new home finally comes to fruition.
You've seen lots of places with your trusty Realtor (like a dog, but with access to lockboxes), discussed neighbourhoods, transit, commute times, schools, renovations, financing, property tax, land transfer taxes, pricing and many other aspects of buying a home.
At long last, we found a home that you could see starting the next stage of your life in and we put in an offer.  Now, most of my clients have gone through one or two multiple offer situations before a successful bid on a home.  I say one or two offers because it is fairly typical to have others vying for the same property in this market.
(That said, the five purchasers I have helped buy homes so far this year included two where we found a great property and bought it under asking with no competition.  The client with the most attempts at buying in multiples was three times, and that was for a condo in the Orangeville / Caledon area.   That's right, they have condos there.  Not many though, and competition is fierce!)
Once the property is purchased firm, the financing set in place, insurance arranged and the movers booked, time flies forward until closing day.  Sooner than you think possible, closing day is upon us.  With it comes some things that are lovely, some that are necessary, and some that can throw you for a loop.
So here are my three secrets about closing day that you should know.
Don't count on getting in before 6 p.m.
The first page of the Agreement of Purchase sale has a section at the bottom for the completion date to be agreed upon between the buyer and seller.  As part of that it says in the boilerplate wording (the stuff that we don't change) that the agreement shall be completed no later than 6:00 p.m. on the date agreed upon.
I've heard some horror stories about buyers hiring movers to deliver their prized possessions to their new home in the morning or early afternoon of the day of closing.  Unless everything went extremely smoothly with the lawyers and the lenders, such buyers end up paying their movers to sit around and wait until the transaction closes.
In my experience, the vast majority of real estate purchases close in the mid-afternoon.  Anytime before 4 p.m. is a sign you hired a good lawyer and everything was handled smoothly, both in advance of the closing day and on the day itself.  The exact closing time is a function of when the lawyers on both sides have received the necessary funds, done their transfers and ensured that the deal is actually done.  Until then, the purchaser's lawyer can't release the keys and you can't get into your new home.
The term "Clean and broom swept" is a relative term.
In every deal that I do, I include a clause that says the Seller agrees to leave the premises, including the floors, in a clean and broom swept condition.  This wording is quite typical and is generally understood to mean that the home will have all of the seller's stuff out of it and that the dust, fuzz, scraps of paper, leaves, dog treats, uncooked spaghetti noodles, plastic grocery bags and other assorted debris still there will have been cleaned up and taken away.
Some sellers and their agents take it a step further, and hire a cleaner to come in to make sure the home shows its best for the new buyers.  I have done this on a number of occasions for clients when the stress of moving and time crunch meant that it wasn't as clean as they would have liked.  My philosophy is that the buying and selling of real estate should be a win-win proposition, where neither party ends up with a bad taste in their mouth.  Nothing sours a closing day like arriving in the lovely new (to you) home you are so pleased to have bought, and find it looking like this.
As such, expect the home to be in a reasonably clean state but not likely pristine.  As part of my process, I visit homes with my clients a day or two before the closing date to check to make sure all the appliances work and to note any issues.  If the sellers haven't started packing or there is garbage everywhere, I place a call to the listing agent to remind them of their obligations and to discuss a hold back with the lawyers to make sure it actually happens.
When you take lipstick off a pig, the pig doesn't look as pretty.
The expression "like putting lipstick on a pig" is one that I encounter surprisingly often in my work.  It is usually used in reference to attempts to make an unattractive house or feature of a house look better by doing a cosmetic fix.  New drapes concealing old, cracked window sills or shiny new fixtures in a dated bathroom are prime examples.
The house that we see on closing date often doesn't look as good as the house that we saw when we bought it.  If the agent has done their job well, the sellers have done their best to spruce up, stage and declutter the home.  Imperfections have been covered or addressed in a temporary fashion and the home is showing pretty close to its best.
When you arrive on closing day, this pretty little pig is gone.  In its place is the morning after version of the home, which may include numerous holes in drywall from a failed attempt to hang a flat screen TV, cracked vent covers that were hidden behind a couch, and a stained countertop from where the coffee maker used to sit.  Such imperfections fall under the heading of visible defects, which means that if the buyer and their agent didn't notice and address them (either before agreeing to waive a home inspection or include the cost in their negotiating) then the seller aren't under any obligation to fix them.
I advise clients to remember that no house is perfect and to expect that they will uncover a few imperfections as they get to know the home.  In most cases, once you are moved in and your furniture is in place, there are only minor fixes needed to get the house looking great again.
I hope you found these secrets helpful and that you start talking about lipstick on a pig with alarming frequency now.  This picture may help with that.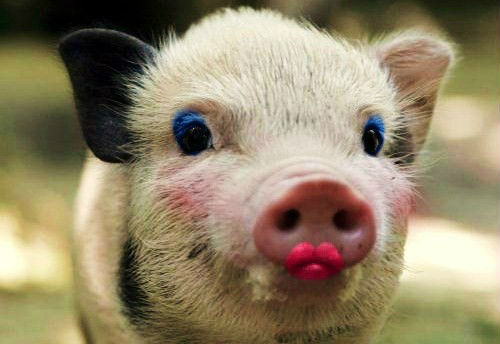 If you are thinking about buying or selling and want to work with a Realtor who knows the ins and outs of real estate, please get in touch so we can chat further.  I'd love to be responsible for what comes next.
Regards,
Jeff

TREE PLACES
When trees are planted or pruned without regard for the special places they can create, they are as good as dead for the people who need them.
Whether it is a tree-lined street or the sheltering boughs of a tree casting shade the house, mature trees can add tremendous value to a property.  Whenever we see old photos of streets or neighbourhoods we know well, the lack of the mature trees we know so well makes the picture look barren and lacking.
In a very real sense, trees stand for a sense of wholeness and stability.  A neighbourhood with few or no mature trees has difficulty attracting new and improved housing stock and tends to go downhill, whereas a neighbourhood with trees stands a very good chance of improving over time.  When I look at homes with clients, the appeal of the neighbourhood is often based on the presence of trees that create little spaces of calm and relaxation in a busy world.  Now, go find a hammock.