You ever hear that saying that real estate is about three things?
That's right – location, location, location.
While that might be a bit of an over-simplification, it is definitely true that real estate markets are inherently local.
What's happening in one part of the city can be quite different than another part, and when you look at a broader area like the Greater Toronto Area, you really see some differences in real estate prices and trends.
I am pleased to say that the majority of my business comes from repeat clients and referrals.  Whether it is family, colleagues or friends, a number of my clients who loved working with me refer people they like who want to buy, sell or invest in real estate.
These referrals are often located in different parts of Toronto or the GTA and if I am confident I can service the client effectively, I love learning about a new neighbourhood or city.  I've developed a comprehensive approach to quickly gaining a comprehensive understanding of a local market.
One area I'm working in right now is Ajax, where I've just listed a gorgeous raised bungalow on a ravine lot.  You can view the virtual tour here and if you know someone who might be interested in it, please let me know.
As part of getting ready for this listing, I've spent the time to research and analyze the Ajax market.  I'd like to share some of my work.  Let's take a look and see what's going on in Ajax, using four key metrics.
Average Sale Prices
The first aspect we're going to look at is the average sale price for each of the four major home types.  I've grouped freehold and condo townhouses together into one category (cleverly called townhouse).
From June, 2016 to June, 2017, we saw a strong increase across all housing types.  Condo apartments actually had the highest growth year over year, going up 27%.  Detached home prices went up 18%, semi-detached went up 17% and townhouses trailed the pack at 13% increase year over year.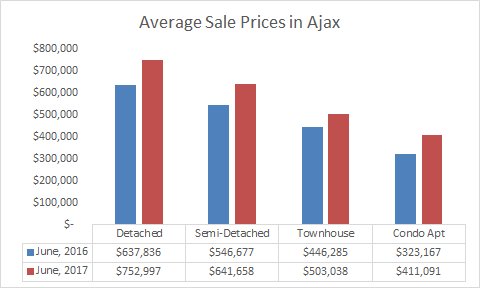 Based solely on this metric, things are looking pretty good in Ajax, with considerable price growth in all major housing types.
Number of Sales in Ajax
The next aspect we consider is how many actual sales are taking place in Ajax.
Here, we start to see some interesting differences.
The number of detached home sales in Ajax in June, 2017 was about half of what it was in June of the prior year.  Semi-detached remained about the same number of sales but townhouses showed the same results as detached, dropping by half.  Condo apartments were pretty much the same number of sales.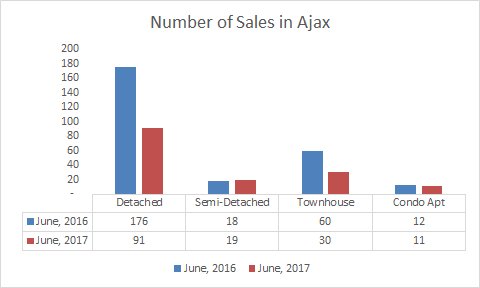 We see that when it comes to what is selling, we have two distinct markets in Ajax.  Detached houses and townhouses are at about half of the number of sales of last year, while semi-detached and condos are selling in pretty much the same numbers.  Given almost 90% of sales in Ajax are either detached or townhouses, this means that the market as a whole is seeing significantly fewer sales.
Active Listings
Halfway through our review of Ajax, we have strong year over year price increases across all housing types, but significantly fewer sales.  The next logical question is, how many listings are there?
When we look at the number of active listings on the market in June, 2017, we see that we have more than three times the number of detached homes on the market compared to a year ago in June, 2016.
Semi-detached houses and townhouses are also plentiful, with over 2.5 times the number for sale in June, 2017 compared to the same time last year.  Condo apartments are the only housing type that hasn't increased, with the same small number (9 to be specific) available as of June, 2017 as there was back in June, 2016.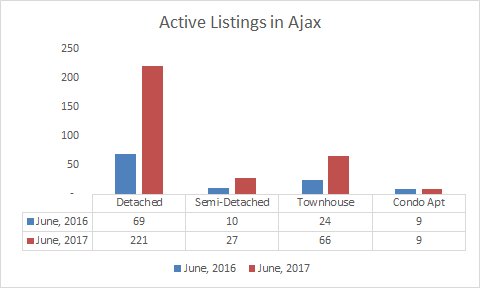 If you wanted to buy a home in Ajax in June, 2017, you had 323 properties available for sale.  If you had wanted to buy a year ago in June, 2016, you would have had only 112 options.  Close to three times as many properties for sale means that the market has certainly shifted from the strong sellers market we saw last year.
Months of Inventory
The final metric we are going to consider is the months of inventory for each of the major housing types.  These numbers give us a quick way to assess if the supply of homes are equal to the demand from buyers.  Here's the cheat sheet.
It's a seller's market if there are four months (approximately 120 days) of inventory or less.
It's a balanced market if there are four to six months (approximately 120 to 180 days) of inventory.
It's a buyer's market if there are six months (approximately 180 days) or more of inventory.
When we look at June, 2017, we are still considered to be in a seller's market for all of the major housing types.  Detached and townhouses have about 2.4 months of inventory, semi-detached have about 1.4 months and condo apartments are less than a month.
While that doesn't seem like much inventory when we look at what was available in June, 2016 we see it is a huge increase.  Detached homes went from under half a month's worth to almost 2 and half months.  Semi-detached houses have more than double the months of inventory, townhouses saw just about the same massive increase as detached houses and condos stayed pretty much the same.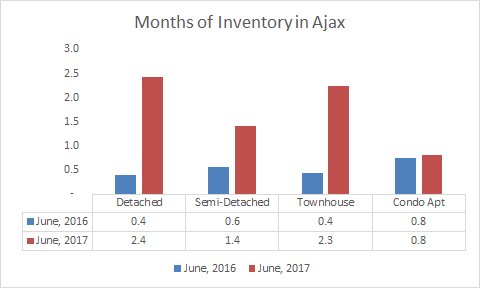 This chart shows us just how tight the housing market was in Ajax in June, 2016.  It was almost impossible to buy anything.  Fast forward a year and in June, 2017, we are not too far away from a balanced market for detached and townhouses.  Semi-detached houses and condo apartments are still in rare supply.
By reviewing these four metrics, we place what's going on in Ajax in context.  We see what is happening in the most recent month for which we have data (June, 2017) and we also look at what has changed since a year ago.
After this review, we can say that Ajax has seen significant price increases over the last year but the party is over. The number of sales have dropped by almost half in June of this year compared to 2016 sales, telling us that buyers are no longer snapping up anything that comes on the market. We know this to be true as there are almost three times the number of active listings on the market now compared to last June.  The months of inventory has increased dramatically in the detached and townhouse housing types, while semi-detached and condos remain rare both in terms of number of listings and number of sales.
By completing not only this work, but even more detailed analysis of their local neighbourhood, I am able to help my client in Ajax understand the market in which we're listing their home.  We know that homes don't sell as quickly as they once did and that buyers have lots more choice.  Pricing the home properly, marketing it effectively and negotiating it aggressively are more necessary than ever.
Fortunately for us, it's a great home on a rare ravine lot, with tremendous curb appeal.  We may not sell it fast, but by doing it right we know that we'll find the buyer who sees the value and wants to make it their new home.
If you or someone you like is considering selling your home, make sure you work with a Realtor who understands what's going on in the local market and who is willing to do the work to get the home sold for the best price.  If you need help with that, I'd love to be responsible for what comes next.
Regards,
Jeff

CORNER GROCERY
Give every neighbourhood at least one corner grocery, somewhere near its heart.  Place these corner groceries every 200 to 800 yards, according to the density, so that each one serves about 1000 people..
In our rush to prevent undesirable commercial spaces to open in the midst of residential housing, we often create neighbourhoods where there are no local retail available to serve the needs of the area.  For every neighbourhood with an independent convenience store or cafe, there are many where walking to pick up some milk is a lengthy task.